Welcome, Visitors!
The Cactus and Succulent Society of San Jose (CSSSJ) welcomes you to our website.
The CSSSJ is a diverse group of people with a mutual interest in and fascination for cacti and other succulent plants.
Succulent plants are among the most bizarre, beautiful, and varied in the entire plant kingdom. If you share our interest in these fascinating and unique plants, or just want to learn more, we invite you to join us at our meetings and have some fun.
If you'd like to become a member, you can do so for $15 a person, or $20 a couple. See the Membership Page for additional details.
---
Upcoming Events
---
October Program: Make Your Own Succulent Pumpkin! with Judy Hecht
Judy Hecht will show you how to turn a mini pumpkin into your own personal succulent planter.
Bring your own mini pumpkin. One that is 4-6" in diameter, with a nice flat top, works well; see the photo for the approximate size to look for. Bonus if it has a fun stem to work with!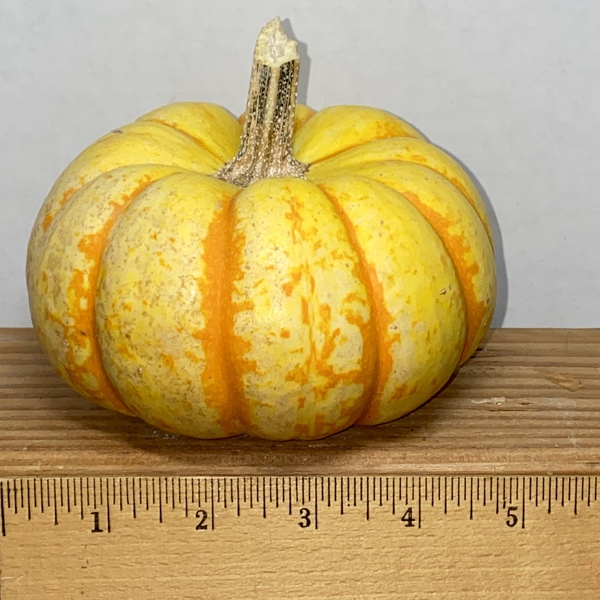 We encourage you to bring in any natural ephemera, such as acorns, cedar pine cones, small seed pods, and juniper berries. Dusty Miller cuttings make a great accent! If you would like to bring in fun items like buttons, feel free.
We'll have glue guns to share, but if you would like to bring in one as well that would be wonderful! We will have nitrile gloves available.
Any succulent cuttings that you'd like to contribute to the activity are encouraged. We anticipate a full turnout, and will need lots of plant material. Think about what is in proportion to the pumpkin… small to medium, rather than large. These are some of the types that are suggested by our presenter:
Sempervivum
Graptosedum
Sedums
Jade
Crassula
Anacampaeros
Graptopetalum
Echeveria
Haworthia
Sedeveria
String of pearls
Thimble cactus
Othonna capensis
Small aeonium (kiwi/Irish bouquet)
There are a limited number of slots available for this hands-on activity. Please email programs@csssj.org to reserve a spot. Participation in the workshop is not required to attend the meeting: you can still observe, mingle, and enjoy the mini show.
About the presenter:
Judy Hecht has been a Master Gardener since 2007. Her gardening emphasis is on succulents, which she has been playing with since the 1980s, but her nemeses are lithops. Judy leads the succulent group at Martial Cottle Park, where you can find her on Wednesday and Saturday mornings. There is also a succulent sale there the third Saturday of each month from 9:00 to noon.
Judy is also an Oma, a gardener, a reader, hiker, bread baker, jam maker, and Burner.
---
Fall Show & Sale
Click on the above image to download a high-resolution version.
Visit the Show and Sale page for full details.
---
Send questions or comments to the CSSSJ Webmaster:
webmaster@csssj.org
---